You hop on a plane, travel for 26 hours and think the challenging part is over. But with the pandemic amongst us, this part of the voyage feels like the easiest. Today's new challenge is ASQ. It stands for Alternative State Quarantine, and many countries are now implementing the process to open their borders to travelers.
Each country's ASQ guidelines are different, and they include details on what to do before and after you enter the country. In the case of Thailand, ASQ means taking a COVID test before arrival, filling out forms and submitting them online, and quarantining for either 7 to 15 days depending on whether you have the vaccine. Vaccinated people only have to quarantine for 7 days.
Thailand has had ASQ in operation since September of 2020, and has seen its number of visitors slowly increase with time. The number of visitors has climbed from zero in September to 7,694 in January of this year. However, it still hasn't had a huge economic impact on the country. In December of 2019, Thailand saw close to 4 million visitors compared to only 5,741 visitors last month. Last month's visitors are about the same number of people I saw at the Full Moon Party in Ko Pahngan during my first trip to Thailand in 2012. That means that about 3.5 million people aren't buying food, booking trips and shows, getting massages, riding trains and planes and more. Thailand's economy can feel it.
So if you're up for the challenge and you're willing to sit still for at least 7 days inside a hotel room, let's get started! One step at a time. 
Step 1: Start your online application
The Thai government has created an online platform where you can submit all your paperwork and get it approved. The goal is to get a Certificate of Entry. To begin, you have to submit: 
your basic information

photo of your passport

flight info entering and leaving the country

a photo of your vaccination certificate (if any)

your medical insurance policy
My instinct was to submit my US based health insurance, but most medical insurances don't have this type of coverage requested. What you really need is a temporary international coverage that expressly says it will "cover treatment and medical expenses in relation to COVID-19, with a minimum coverage of 100,000 USD." 
There are many companies that provide this service for a specific time frame. We got an instant quote online through the company Insubuy. We purchased the insurance in a few minutes for 55 USD per policy, and received an official letter of coverage in a few hours to our email. The letter has to specifically state that it covers the 100,000 USD including COVID. Ours said "Covid 19: Covered same as any other illness to the above mentioned Medical Maximum."
Once you submit all of this, you'll get an email saying "Your registration/application for COE has been pre-approved." If something was missing, it will say the application is rejected. Don't freak out, it's just an automated system. You can quickly submit whatever is pending.
Step 2: Book an ASQ hotel
At first glance, it might seem like you can stay at any hotel, but the Thai government has a list of approved hotels out of which you can select to quarantine. Currently they have about 137 to choose from. You can view a handy list here. 
You can't book these hotels as you normally would and instead have to book their ASQ packages specifically. These packages are way costlier than the average price because they include COVID tests during your stay, a nurse on standby and 3 meals a day. I did the math, and it's still overpriced based on Thai prices, but it's the only way to fulfill the quarantine requirement. I highly suggest that after reviewing prices in that list, you call the hotel you prefer. You can also book online for a quarantine package through Agoda, but I wouldn't recommend it because it shows less availability than what there actually is. Contacting the hotels directly is best.
Once you book a package, you'll get a "Hotel Confirmation Letter" from your hotel. I corresponded with the hotel through Whatsapp. We booked a package through Citrus Sukhumvit 11. The cost for a 7 day quarantine for 2 people was 1,400 USD. Once you have your letter, you'll have to submit it in the next part of your application along with specific layover details about your flight.
Step 3: Submit your Hotel Confirmation Letter and flight itinerary
You're close to getting that beautifully sealed COE. Now, you have to submit: 
layover details about your trip within a form

your electronic tickets

your Hotel Confirmation Letter 
Note that the hotel you communicate with (I highly suggest using Whatsapp), will also ask you for all the documents you've submitted through the online application. They're the ones who will be coordinating your pick up and van transportation directly to the hotel. 
Approval of documents through the online application is pretty quick and usually will send a response in less than 24 hours. After submitting all info from this step, we got our COE letter 15 hours later. Hooray.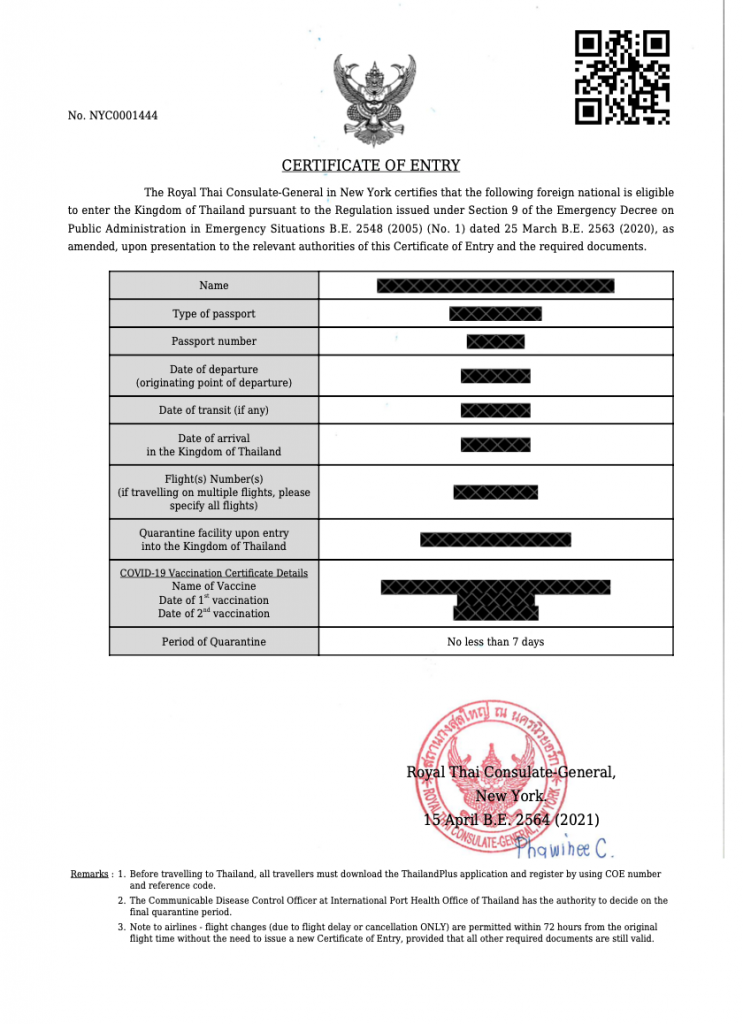 Step 4: Get an RT-PCR test 72 hours before your departure time
This feels a little bit tricky because you have to get the test done in a timeframe no earlier than 72 hours before your departure and guarantee you'll get the results back before you leave. Most RT-PCR tests are not rapid and immediate, though there are some available. I'd suggest looking up "Rapid RT-PCR tests." The test we got wasn't rapid, but we got the results back a day later. A woman in front of us at check in had gotten a rapid test that wasn't RT-PCR. She had to get a rapid RT-PCR test done at the New York JFK airport. Make sure to arrive at the airport with extra time.
One crucial piece of info: the validity of your test will be checked at your point of departure, so don't count your flight hours within the 72 hours time frame restriction. 
You must test negative to fulfill this requirement. The flight attendants will check your RT-PCR test results when you check in for your flight. They won't let you check in unless you have all proper documentation to enter your final destination.
Step 5: Print everything you submitted
This was something we definitely didn't know we needed, because hey, we live in a digital world. Traveling during the pandemic is a little bit like going back in time to the 90s. A lot of new processes and restrictions haven't allowed for an entirely efficient process yet.
Make sure to print out every piece of document you submitted for your application, and throw in a copy of your passport and vaccination certificate (if any). This proved to be extremely useful. They checked our papers twice before we checked in at the New York JFK airport, and six times when we arrived at the Suvarnabhumi Bangkok airport. 
The grand finale: Quarantine for either 7 or 15 days in your hotel room
You won't get that climatic rush of emotion when you land, but it's an experience all on its own. Although you'll be taken straight from the airport to the hotel, you'll get to see first hand what the process to allow people in the country is like at the moment. 
In Bangkok airports, they have a lot of people working to direct you to large secluded areas with lined up chairs where officials and staff check your documents. We counted, and in total, our documents were checked by 6 different people from the point of arrival to the door where our van was waiting. Enjoy the view from the airport to the hotel, because for the next few days what you'll be seeing the most is the view from your hotel room's window.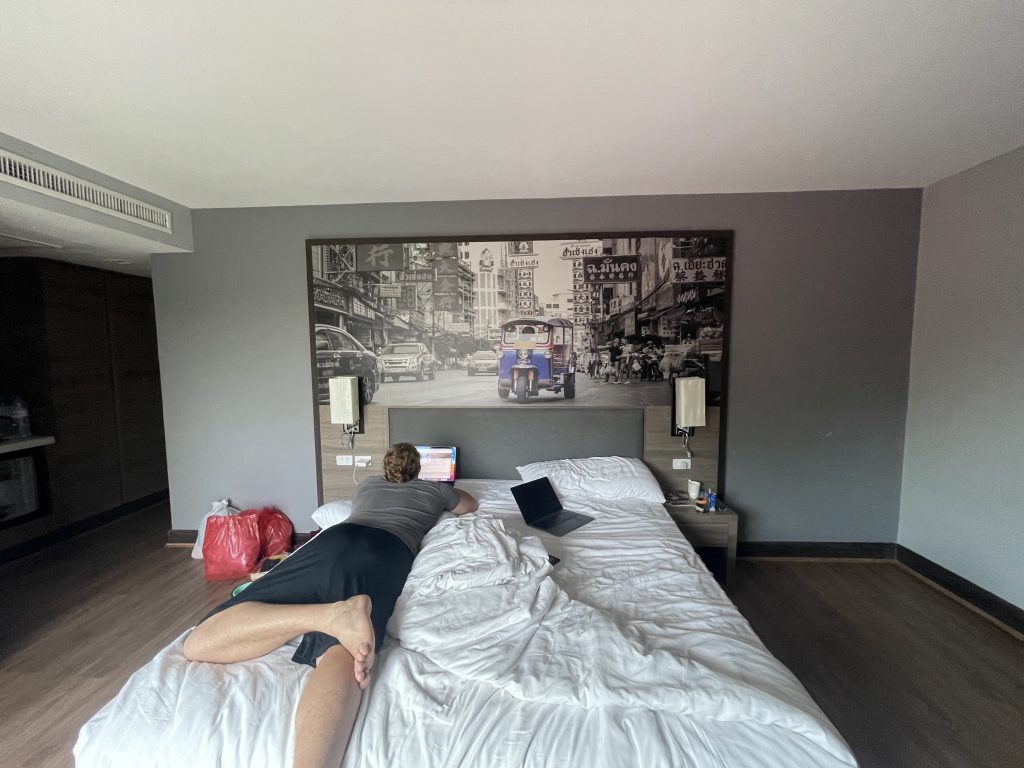 What the hotel quarantine is like
Our hotel was comfortable, but of course, there's something very limiting about not being able to leave a room. A few things I'd suggest when choosing a quarantine hotel to remain as comfortable as possible:
Reliable service, with good communication on timing of meals. We received Whatsapp messages everytime our food was waiting outside our door.

Large windows. Our room had one large floor to ceiling window that made us feel a little bit as though we were outside, this really helped.

Fast internet. The internet speed was very good, some of the best I've had in a while actually.
And a few things to keep in mind about rules and restrictions: 
Guests are not allowed to drink alcohol during quarantine. That's right, time to sit still and think about your life. The Chang will have to wait.

After the first negative COVID test result on Day 5, guests are allowed to take a daily 45 minute recreation time in the terrace or a public space. They do count the minutes and are pretty precise about it. 

They'll give you thermometers, and you'll have to submit your body temperature twice a day. All our communication was done through a specific Whatsapp chat with the nurse. 
Although it sounds grueling in some ways, I can't say it's not worth it. It's surprising what ideas you can come up with when you have so much time on your hands. I wrote this entire article while doing quarantine, and trust me, I'm very much looking forward to walking the streets of Bangkok tomorrow, eating some spicy papaya salad with a Chang in my hand.
Any questions? Let me know! I'm happy to help.