If you sustainability is always on your mind, then travel is your opportunity to fully put it into practice. Check if your next destination is considered ecotourism friendly. Find out why Mongolia ecotourism is paving the way in that effort.
Mongolia's landscape is ever-changing and abundant with grasslands, mountains, and deserts. Its natural beauty changes in the span of just a few kilometers. Landlocked between Russia and China, it's home to a little over three million people.
So, how much of Mongolia is nomadic?
27% of the population lives in nomadic conditions and even teenagers embrace this lifestyle. The extremely low Mongolian population density makes the country one of the least dense countries in the world.
What is ecotourism and why is it important?
The World Tourism Organization (UNWTO) defines ecotourism as 'tourism in which the main motivation is the observation of nature, and is generally organized by small and locally owned businesses.' Ecotourism promotes environmental sustainability and supports the economic-social growth of local communities.
But what exactly makes Mongolia ecotourism friendly?
Mongolia has 28 cities, the capital of Ulaanbaatar, Mongolia is home to half the country's population.
How much population in Mongolia lives in non-urban areas? Half of the Mongolia population, which means a small number of people live in widely spread out areas. Mongolia ranks as the 3rd "least crowded region" in the world, right below the territory of Greenland and followed by Australia and Namibia. Mongolia population density currently stands at 5.4 residents per square mile.
To put things in perspective: The US has 92 residents per square mile while Mongolia has 5."
This Mongolian nomad family welcomed us to their Mongolian ger for 2 days
When was Mongolia founded?
Mongolia was founded in 1206 by Genghis Khan. Almost a thousand years later, Mongolia's 2nd and 3rd largest cities were founded in the late 70s and 80s. These decades brought a huge increase in the urban population.
In 1955, 27% of the population lived in cities. Today, 73% of the population does.
Apart from these 3 major cities, the country is made up of vast and ample grasslands also known as steppes. The Mongolia steppe creates miles and miles of untouched land.
So, Mongolia what to see?
When you visit Mongolia there's no doubt you'll practice a nature-related activity. I highly recommend horse and camel riding, horse watching (a truly beautiful experience), and sleeping in a ger (yurts in Mongolia) in the middle of grassland and desert. Stargazing at night is spectacular. The local communities have the most control over the tourism industry, with Mongolian nomad families welcoming tourists to their very own homes. I booked a 2-day stay in a ger through Airbnb. It's very simple. Check out this ger listing on Airbnb.
Is Mongolia a country that allows you to connect with nature?
To interact with wildlife in its natural habitat, travelers generally think of South African safaris. Mongolia's wildlife is diverse and free. It's home to a variety of wildlife, with unique fauna and flora that's mostly endemic to the region. During my visit, I was able to see eagles, camels, and horses roaming free in the grasslands.
There's something unique about a herd of horses running free, hiding in small and desolate mountain nooks.
Mongolia climate and weather create a lower tourism influx.
Mongolia nomads move their Mongolian yurts called "gers" to different regions based on weather conditions. The country has harsh and long winter periods that last 4 months from November to February. Families set up a Mongolian yurt camp in the lower plains during the winter and higher plains during the summer. So, Mongolia when to go? If you like the cold and don't mind staying in a ger in the winter, any time of the year works. Otherwise, stick to April - August.
So, Mongolia when to visit?
Ecotourism in Mongolia has not reached its peak, and you could be one of the first to explore the country and share it with others. Even more relevant than the weather is tourism periods. I recommend avoiding the higher season to fully enjoy the vast lands Mongolia offers.
The relatively higher-peak tourism periods are in June, July, and August.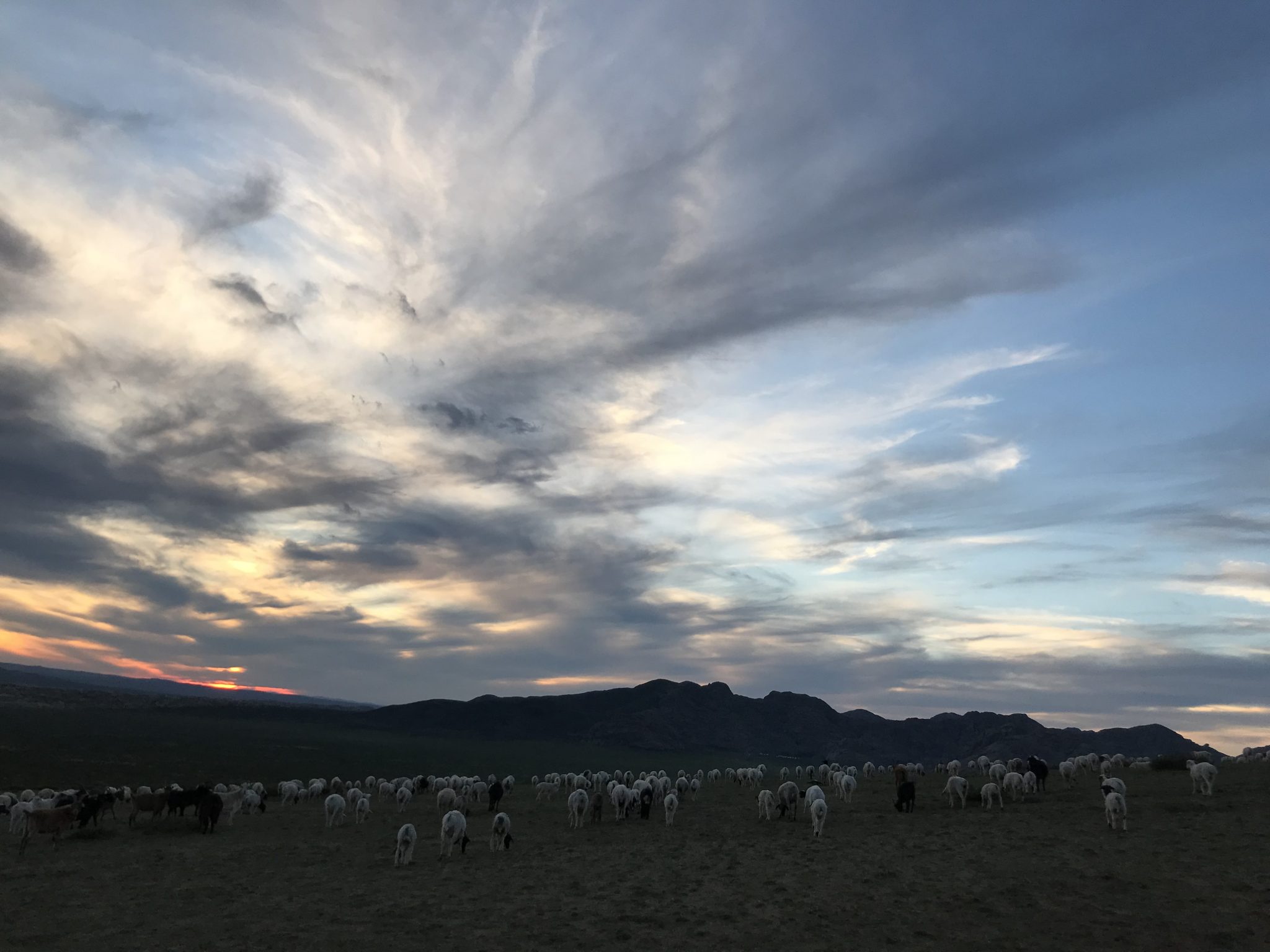 Mongolian Sheep and goat herds roaming during sunset, with no fence in sight.
It heavily relies on trains and buses for domestic transportation.
Most forms of transportation like cars, trains, trucks and planes use a hefty amount of fuel. If you want to reduce your carbon footprint, the best way to travel domestically is by bus or train.
Mongolia has a reliable rail system called the Trans-Mongolian Railway. It connects with the Trans-Siberian Railway, with routes to Russia and China.
Since Mongolia is rich in natural landscapes, it also has fewer paved roads. For that reason, the train is more convenient than the bus. The country has limited international air access, with only one international airport located in Mongolia, Ulaanbaatar. This limited transportation affects the country's tourism with the biggest tourism influx coming from nearby countries like China.
Mongolia and China share a border, with a stark cultural difference between the two. The Mongolia and China map shows that Mongolia shares almost half of its border with China. Both countries are connected through the rail system.
Our train from Mongolia to China.
It's a historically nomadic culture.
Mongolia ecotourism stands out in its modern sustainability practices because of its history and culture of nomadic practices. Really makes you wonder whether the key to environmental sustainability is embracing older practices. Living in a Mongolian yurt or ger as it's locally referred means sharing resources. Generally, entire extended families live in a plot of land with multiple gers.
The Mongolian yurt camp where we stayed as made up of 6 large yurts and one outhouse (a pit latrine outdoor style bathroom, with a hole in the ground). Our host family cooked meals for us in one large pot.
Our meals were warm and hearty made up of goat stews and dumplings.
One pot was shared between the whole family. Drinkable water was extracted from a few groundwater pumps. And the coolest thing of all: Mongolia yurts have a cylinder shape and pointy tops designed to insulate the heat or cold and allow for an ideal flow of cool air during the summer.
What is Mongolia like today?
It's very in tune with its historical nomadic practices that have prevailed because of two main events. China's independence from Chinese agrarianism in 1911 and the collapse of the Soviet Union in 1991. The latter brought Mongolia to a market-based economy and put the livestock under the hands of private ownership rather than the state.
A collage of photos displayed in our host family's main ger, or Mongolian yurt.
Our tour guide Ari Sune, a recent college graduate who speaks fluently in English described the engrained Mongolian nomadic culture like this
Yes, in Mongolia we all accept the nomadic culture. I have friends who were born living like this, and it's normal. It's meant for the young and the old.
Interested in Experiencing Ecotourism in Mongolia?
Let me know if you decide to visit Mongolia! I'd be happy to share my handy practical guide that outlines places in Mongolia to visit and the best ways to make the most of your experience.
May you have safe and mindful travels!
Trans Mongolian Railway Tours
Experience a railroad adventure that passes through Russia, Mongolia, and China.
Interested in a journey that merges travel with fascinating local experiences?
Get on board for an escapade through three countries – Russia, Mongolia, and China. The Trans Siberian railway private train and Trans Mongolian Railway Tours. Travel the renowned Trans Siberian railway through the heart of Siberia and to the wild steppes of Mongolia. Discover archaic Russian architecture in Irkutsk and astounding beauty in Lake Baikal during stops in the trip.
An upcoming Gigi Wanders article will cover a personal experience on a private Trans-Siberian railway train. The article will act as a how-to for getting the most out of your Trans-Siberian and Tran-Mongolian railway adventure!
Gigi Wanders Newsletter Signup